Update and Renew with Ease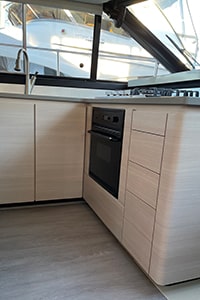 3M DI-NOC Architectural Finishes offer an alternative surface finish in a wide variety of textures such as wood grains, leather, marble, or metallics. You can update faded cabinetry or add décor features at a fraction of the cost of real wood or stone.
The vinyl wrap can be applied to hard surfaces such as wood paneling, cabinetry, doors, dashboards, and more. No sanding or painting is required and there is less disruption to your boating life.
Today's DI-NOC vinyls are exceptional in quality and texture. Interior designers are using DI-NOC vinyls in their designs due to the wide range of options available.